Kylie over at Daily Vitamin F
is having a planking party and here is my submission. I see watching these I could work on my form a little but you get the idea.
Planking is a great way to build up endurance in the abs, back and stabilizer muscles.
The first one, well really all of them can be combined with pushups to make them even more work.
Animated gif maker
In this one I plank then touch either hand to foot, to knee, elbow to knee, or any combination in between, alternating sides.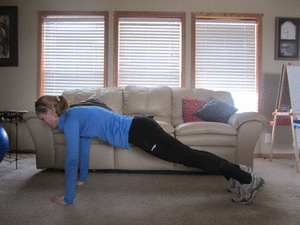 Gif generator
and finally plank, then bring leg up outside body, tuck knee under body and finally cross it under the body. Tell me you can't feel the burn. To make it harder instead of putting foot on ground in between extend it strait back.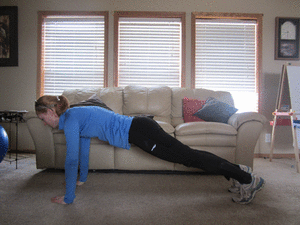 Animated gif maker
I went for a run today and forgot to bring my Garmin! Aack, my phone told me I was gone for about 91 minutes so I am going to guess that I ran about 10 miles.? i would say based on where I ran that is probably pretty close. I can't really map it out because some of the roads I ran on are field roads and don't show up on Map My Run. Sigh. It did feel good to just run by feel though :)
Have a great weekend. What is your favorite way to plank?